You are currently browsing the category archive for the 'DONE!' category.
I'm at a loss this morning.  Over the last 23 days I have established a new routine that has been ceremoniously ended.  Considering there was a huge ceremony at the start and and the end, there was nothing UN-ceremonious about this process however there is now a gap in my day that needs to be filled else-ways.  I am, of course, speaking of the recently ended Winter Olympics 2014.
I have tried "Olympic" knitting in the past but generally set myself either goals that were too lofty or was not living anywhere where I could even watch the Olympics so it was difficult to get into the spirit of the process.  In 2012 there was a rather large kerfuffle with the USOC and the use of the term "Ravelympics", namely they were put out that a legion of knitters would 'make fun of the effort that olympians put forth' and would, in general, bring shame to the idea of and word of "Olympics".  There was a huge change on Ravelry to put the legal overkillers at rest and there was launched the renamed the "Ravelympics" as the "Ravellenic Games" and there are a barrage of teams and prizes and rules and basically a massive headache to those of us who, like me, tend to keep to the Yarn Harlots vision of The Knitting Olympics, since it was her invention.  I "boycotted" those games because I was just too angry at both our litigious society and the monster that had been created in people but this year I reclaimed the Knitting Olympics as my own.
My goal was to turn this beautiful yarn:
from Fancy Image Yarns in the perfect Seahawks colourway into socks for Mike who had been cheering the 'Hawks all season and was still charged because of the SuperBowl win.
1.5 skeins to go around his wide feel later and we have a met goal!
I cast on during the opening ceremonies and cast off the second sock on the Friday before the Games ended.  These socks feature the "Fish Lips Kiss Heel" which was a first for my sock knitting but certainly won't be the last, in fact I've already cast on another pair to use this heel with.  It fits so very well and looks beautiful on the foot, mine and Mikes!  Here is a cool interview with the Sox Therapist, creator of the FLKH.  If you are on Ravelry and knit socks, I HIGHLY suggest you buy this heel pattern.  Best $1 I've EVER spent on my knitting.
Because being a monogamous knitter is so NOT in my genes, I had to get into another project too and while its not strictly "Olympic Knitting" because it was started before, it was my goal to get it done before closing ceremonies.
This was the inspiration: 
This was the roving: 
This was the pattern: Song of the Sea
This is the unblocked long cowl that I made from my handspun!
It is soaking in its bath of Soak right now and will be laid out to dry as soon as I finish this post here.  The true joy of this project is that it was sheep fluff and worm spit when I got my hands on it and now it is a beautiful, wearable and perfectly wearable object in so many ways.  I need to do more with my handspun because I always feel so accomplished when I have a finished project.
*sigh*
Now its over and instead of spending the morning with Mike on the couch watching CBC and the Olympics live, because the US coverage SUCKED, I have had to find some other way to begin my morning.  Good thing I've started running again, beginning again today, because that was the perfect way to put forth my own Olympic effort.  Getting up and going running in the rain and cold?  Yes, it was an Olympic effort and while I'll not be anywhere close to the 26.2mile maintained 6 minute mile that I would need to qualify myself for a Summer Games in this lifetime, I'll keep running all the same.
Yesterday was an amazing day for me.  Not for any particularly profound reason…actually yes, it was a very profound reason.  Yesterday, after just over 2 years of spinning, I finished the Intentions fibers.  Remember these ?
Yup.  All (nearly) done.  The last two, Perserverence and Strength are still on the bobbins waiting to be plied, hence the nearing/nearly completion/done parts but still, I cannot convey to you the feelings of…Power?  Amazingness?  Fulfillment?  Relief?  Emptiness?  Just the feelings that are flowing thru me right now.  For the first time in 2 years, I have an empty wheel and no idea what I want to (and that WANT is a new feeling too, far different from the 'need' to move to the next fiber in the series) put on it.  Those last two should sit for a few days, plenty of time for a whole new bump to slide through my fingers, but I haven't a real idea what I want to spin next.  I've looked at my stash and picked up and put down bumps and braids countless times, all with the feeling of "Yes…No…Meh…No…Yes".
For the most part, I took photos and jotted notes of my Intentional Journey along the way.  "Joy" is the exception to that rule.  I must have been so joy-ful in my spinning that I got wrapped up and clearly forgot to photograph anything except the finished yarn!  For a while there, I was posting the process and the photos here on the blog.  And then I moved and life got in the way and now I have a backlog that I am getting through 🙂  In the next few weeks, look forward to those posts and photos here, as well as my pleas for pattern ideas as what to do with the yarns themselves.
I must have been nuts to think I could do it all, and think mindfully about each, in a year.
3.75 pounds of Superwash BFL. 15 different colourways. 24 months.  Intentional thoughts and spinning.
I am so pleased with myself.
Well, yesterday was an far more of a marathon than a simple 12k for me.  For starters, since we had no idea when to get there and what might be happening, we got there WAY too early.  Mea Culpa.  Unfortunately, this little 'oops' had us standing around from 9:15 to nearly 11.  Which wouldn't have been so bad had it been a nice, warm, sunny day.  What with the wind off the ocean, it would have been lovely.  But it was sprinkling and then raining and it turned that cool ocean breeze into something less than nice and made us all soggy and most people were huddling under trees in the lead-up to the start.
Let me tell you something about the start of a race.  Unless you are in the front line (and deserve to be there), you feel akin to cattle being being herded.  Sadly, there is little you can do to combat this feeling because it seems to be all pervasive.  A man next to me at one point remarked about everyone pushing to get into the chute being silly because the race was chip timed.  This would have been a wise comment if he himself hadn't been pushing/being pushed. (Chip timed means that you have this little tag that starts "your" time as soon as you cross a special mat and stop it the same way.  You can be the last one to cross (either way) and still be the fastest runner based on time.)  Either way, everyone starts leaning on you right from the word "Go" and thus starts the press of thundering bodies.
So I ran.  And Ran.  For 7.5 miles according to my Garmin.  M and Sisu saw me off at the beginning with Sisu pouting that I wasn't taking her with me.  And then I started seeing people from work!  C was timing at mile 1 or 2, D was at 6 and (a different) D and M were at 7!  I saw a tenant, B running with one of my work friends, M, saw co-worker S at the end and had seen former co-worker B at the very beginning.  I missed seeing another former co-worker, also an S, there but I hope she was!
Back to the race…Once I started moving faster I started warming up and I was so grateful for that.  After the first mile I wasn't questioning my wearing a running skirt instead of capri or running pants and I was certainly glad that I didn't have my wool shirt like I had wanted 10 minutes before.  That first mile was a lovely mess of dodging strollers, walkers and people who obviously weren't paying attention to where they lined up (according to the mph markers at the beginning) and small children.  It made me smile, laugh and joke with new comrades in racing and forget that, for me, the first mile is always the hellish one.  Once I get through that point of wanting to die and thinking, "Oh dear God, Why did you let me think that I could do this insane thing?", running, especially race running, is fun for me.  The best part of racing is that the first mile goes faster than I think it does and then I'm into it and there is no turning back.
And then the hill starts.  I say "Hill" and it is one but it is also a mile+ long steady climb that really tests your will to live.  I got lucky on this hill and was positioned near a woman and her friend who was also her running coach.  They ran/walked it and it was there pacing and breaks that got me through it.  We played pushme-pullyou nearly all the way up and then I passed them on a flat and didn't see them again.
And then there is a downhill that makes you grateful for the uphill until your knees start to ache followed by rolling hills that keep you hoping for the next downhill.  Lucky for me, I found a partner for this time who was wearing a lovely teal blue shirt who kept giving words of encouragement to me as I gave him walk points to shoot for.  We worked as a great team for those hills, him saying he needed a break, me saying, once we hit that second pole, him saying OK and then saying run at the next mailbox…I wish I could remember his bib number so I could see how he did.  Once we hit a flat part his better speed on flats kicked in and he pulled ahead.  However, as he moved off, I got a new partner, a woman in a green jacket (despite the increase in temp, decrease of wind and ceasing of rain) who wanted someone to pace with like I did.  I have no idea who she was but I know that we laughed at the guy who had already finished and was running the other way and said that he must be doing a 24k.  We went nearly the last 2 miles together and then she caught up with a friend and joined them for the last.  And then, in the last half mile, I had M cheering for me right before the final turns and a gentleman in a green t-shirt running next to me telling me that I totally could do this and I remembered that I COULD do it and that, being within sight of the end, I totally HAD done it and so I pushed hard and finished with a smile on my face.
Bib #          age  sex                 overall/2141  – age group  – Gender/1278
| | | | | | | | | | | | | |
| --- | --- | --- | --- | --- | --- | --- | --- | --- | --- | --- | --- | --- |
| 284 | SisuGirl | | 30 |   F | F 30-34 | Port Townsend | WA |    956 |   58/134 |   436 |    1:22:11 |     11:02 |
I did it.  I was done AND I had done it in less time than I wanted to.  When I first started training I was aiming for 1:15.  Then life got in the way and I downshifted to expecting a 1:30.  Then the race started and hearing my splits made me think that I could be faster because I already was faster than I expected.
I was so glad to be done because it was the furthest that I've raced to date and I, forgive me, was so impressed with myself.  It is so awesome to know that I can run like this.
So I moved through the gates, got my awesome t-shirt, some water, a banana and orange slice and walked about to cool off and then M took me home to shower and relax.  By this time, it was 1pm.  I felt so very done with the day and wanted to just relax.
Not possible.
I left for work at 1:45 and worked until 10pm.
Then I came home and slept.
Worn out to the core.
A very good day.
I am getting back on "a schedule" and am LOVING IT!  Not only does my day have a rhythm again focused by work but that means that my crafting life can merge too.  While I am still in the early stages of scheduling, there is a smoothness that I really, really enjoy.  Let me catch you up on what I've been doing:
There is a "guest room" that is in shambles
and will be tidied tomorrow on my day off 🙂  I had a hard time at Jo-Annes on Saturday…learning what size of fabric could work and what couldn't but I finally came away with
patterns
and fabric for PJ trousers for Mike 
and I 
and for a jumper
Just let me tell you how excited I am about getting into these….VERY.  I finally live in a place where I can wear skirts and my oh so comfortable heels on a regular basis and not worry about sand and wind and now, all I have to wait for is an iron and then I can get started in making some very nice new skirts to wear!
The sewing machine hasn't been idle though…First up was a duvet cover that I did when making sure that the machine worked. 
It would be folded but needs to be washed because I am pretty sure that the sheets were last washed in Tide and I do NOT want a full body allergic reaction…my hands were itchy enough.
I had planned to hand stitch a small market bag from leftover tulle and old ribbon at the end of June but, after a few failed attempts due to darn slippery tulle, put it aside until last Saturday when it finally became this:
Sorry for the overexposure but you can see the flower edging there around the bag and the handle too.  I also, while sorting thru the odds and ends I rescued from dry-rotting away, I found a cut out (what I though) leg to cotton trousers.  Since I can't wear just one leg of trousers with the blinds up, I thought that I would just lay the fabric on the remains to use as a pattern and just make another and then sew them up…and I did :
and then I talked to my mum and found out that PJ patterns are Fronts and Backs, not just legs…so the excess fabric in the front of my new trousers isn't because I mis-sewed, it's because I don't have a rear on my front.  Go figure.  I'll wear them regardless because a) they are my first adult garment and b) I like the stamp fabric. 
On the spinning front, I have been happily plying Intentions and I'll have a few of those in specific posts.  I am still working on them and still loving them and I'll update you all ASAP.
On the knitting front, I finished the top for E
and, despite thinking that it would be ribbing hell, it wasn't that bad.  I knit mindlessly while watching Season 7 of Greys Anatomy, which is my form of TV crack, and finished it yesterday.  I'm going to see E on Friday and we'll see if it fits.  If so, YAY!  If not, well, its a good thing that she has a little brother, C! 🙂  Yes, it does look small and skinny but remember, ribbing stretches and what gets wider also gets shorter so it needs to be oddly long so it fits.
Since finishing, I began a Karin Kurbits hat (that is Johanne, the designers, blog and photos) (Rav link) (Loopy Ewe Link) in Spud and Chloe in "Popcorn" which is nearly white but just this side of cream and Noro Kureyon Sock in 188 which is gorgeous purple and green, both of which I bought at The Loopy Ewe from the fabulous Sheri. 
I love colourwork and can't wait to get thru this ribbing and onto the stranding.  I'm using my Kollage square 2.25mms to rib and think that I'll switch to my KP's 1.5's (2.5mm) to do the colourwork but as the hat is 'slouchy', I may stay with the smaller needles to make it less slouchy and more of a fitted hat but we'll see!
Thats all for now as I'm off to make lunch.  One of the biggest changes in my life is that lunch has become the biggest meal of the day since I am working from 2pm-10pm but I'm enjoying that change.
TTFN!
Things have been hopping here in SisuGirl-land…
Mike and I took Sisu to a dog park a few days ago and while she amused herself by chasing a mouse, we laughed over the signage.
I love signs like this.
We also took a drive one fine afternoon and ended up a but further than we expected…
Thats what can happen when you aren't really travelling with a destination in mind!
I've been training for the Pasta Dash that is coming fast (next week!!!) and I am thrilled with my new piece of workout wear:
Its a running skirt/skort from RunningSkirts and I LOVE IT so very much.  It gives me just that little extra bit of coverage over my rear so I don't feel so exposed.  Generally, my feelings towards workout gear is that I'm wearing X and working out and don't care what you think because this is for me.  Unfortunetly, that attitude doesn't make me feel less ogled when running past men but, surprisingly, wearing a skirt does.  The compression shorts underneath are perfect and stay in place and then the skirt over the top doesn't ride either but gives that extra bit of coverage so you don't see the shorts moulded to my rear…
See?  It also helps that its summery and cute and the colours means that it will go with everything in my workout closet 🙂
And speaking for workout closet…I've decided to 'move' with my life in a slightly new direction.  I have really enjoyed my (continuing) weight loss journey with my buddy and I feel that I would be a great motivator and helper for others to do the same so I have started a new course of study and certification…to become a ACE certified Personal Trainer.
You can look forward to seeing more about this as I work through the books and delve deeper into and onto this path.  I'm wondering if I should start up a new section of the blog for it…got any input, fair reader?
Continuing on the fitness line:  I finally did something that I have been thinking about for a long while now…
Points to the first person who can tell me a) Why I have 6 large stars and b)Why the first star is teal and the second star is pink.
I'll think of some awesome prize for you, I promise!  And I'll explain everything in tomorrows blog post…cause there is a lot on my mind that needs OUT.
Also on the busy adventure front…I am starting some other new training tomorrow too.  I'm becoming a Certified Nurses Aide for the state of Washington.  There is a great need for caregivers and this is a great start for me here in WA.  Send happy thoughts 🙂
My Saturday was absolutely brilliant.
See the couch?  I sat there knitting…
I woke up at 6, made coffee and made myself comfy and picked up my needles…
I watched these…
LOVED the final episodes of Buffy, continued my David Boreanaz indulgence with episodes Bones, knit, knit, knit and knit a bit more.
Sisu wanted out so I put aside my project and let her out.
Felt a little hungry and had some chili that I had bubbling in the crock pot and finally looked at the clock.
It was 5:15pm.
The whole day had been spent in my PJ's, sitting on the couch and knitting.
Wonderful, perfect and just what I needed.
At the end of the day, I had knit this…
And I an promise you, he is very happy in his new home…
Pattern: Hot Water Platypus by brella (Ravelry link only, sorry!)
Yarn: Cascade Eco (brown) and KP's Swish (grey) knit on 7's (4.5mm)
There was a little bit of fiddly-ness with the knitting in the round on small diameters for the head and bill but that was me, not the pattern.  I love him very, very much already and used him last night with my warm grain bag.  I can't wait to get a new hot water bottle so I can use my new friend as intended.  In fact, I might make another friend because I can see very easily how I'd be able to adapt this pattern to make it into a hedgehog with just the addition of fun fur…and you know how I am with the hedgehogs:
Life is all about finding out.
Finding out what you have and what you do and putting it all into perspective…
Finding out what is most important to you and worth your passion…
Finding out with who, what and where you have the strongest affinity…
Realising your Intentions in life for Balance, Clarity and Connection.
Weighing all those activities that make up your life and finding the perfect Balance.
Measuring what is most important and Clarifying it to yourself.
Finding what you are in most want of and making the Connections to make it so.
Once Upon A Time there was a girl who had a favourite sweater…
You see, she moved to Newtownabbey, Northern Ireland during July of 2002 and quickly realised that a Northern Irish summer was much different from the Michigan summers that she was used to.  She needed a cardigan that she could pull on during the brisk mornings and cooler evenings, something lighter than a jacket but still would look smart and go with everything.  With a budget of a student a handknit aran was out of the question so she went to Primark instead.  After searching and searching through racks of girls clothing and finding nothing sensible and everything thin, frilly or fashion rather than function focused she was about to give up and try elsewhere but then, out of the corner of her eye, she saw it.  It was sandy coloured with a bit of grey on the inside hem at the wrists and collar, ribbed in the front body but with plain stockinette (read: just knit) back and sleeves.  It would go with everything, always look smart, was in her price range and, despite being in the Mens Department, fit her suitably.  She bought it and proceeded to wear it nearly every day
…for the next 2 years.
Seriously.
I wish I had more photos of me in this sweater because I think that, short of June, July and August in Michigan, at which time I had it in my bag or in the car for cooler evenings, I was wearing the darn thing constantly.  It was perfect.  It went with everything that I owned because it was that perfect neutral.  The ribbing in the body gave it that little bit of shape that I only vaguely needed in my round shape and the fact that it was an Acrylic/Wool blend, probably 75/25, and wore like iron made that sweater indespesible to me.  I moved from Marine City, Michigan to King County, Washington and found that the sweater was even more useful there because of the Seattle climate and, since it was completely machine washable and dry-able, it was wonderful for me to wear while playing with kids as a nanny and getting gloriously messy with kid wipe-ings…you know, like runny noses, tears, fingerpaints and all manner of crumbs that the youngest would drop on me from his seat in the backpack.
Sadly, that is where the story of this amazing sweater ends.  I believe that I lost it one day, most likely between juggling kids between the Seattle Aquarium and Pike Place Market where we would have chowder for lunch at the Market Grill.  Trust me, McGeaths review of the food is in no way an overstatement and I would be right there along with him, including the beef brisket, to get more of that amazing chowder or another sandwich with the heavenly rosemary aoli.  The kids loved the chowder too and we were such regulars there that I would phone over there and one of the guys would ladle me two large bowls so they could cool while I walked up from the aquarium with the kids, 2 and 3 at the time, and be ready to eat when we got there.  Anyway…back to the sweater.  I think that it was during a late spring heat surge that I managed to take it off while shifting children and forget to pick it up again and lost it to the whirlwind that is the Seattle waterfront.  I didn't realise that it was missing until maybe weeks later when the temperature dropped and I went looking for what was never to be found again.  Sad Day for sure.
Fast forward 2 years and I made a replacement.  I had found an AMAZING pattern online, the Ribby Cardi by Bonne Marie Burns, and thought it would be the perfect sweater to replace the one I lost.  I finished this one on March 26th, 2008 and, sadly,
shrunk it in July '08 when I learned that my new washers "Delicate" cycle was nowhere near as delicate as anyone would have though.  As sad as I was to lose nearly 3 months of knitting, the sweater was not without its flaws.  #1 was the colours.  I LOVED the look of the blue and the brown and both suited me very well…but they didn't go with everything so the sweater didn't nearly get worn as much as I would have wanted.  #2 was the fact that I managed to do some interesting things with the sweater, like seam a sleeve inside out and not notice until weeks later, and I was never entirely happy with it.  It may have been the colour choice, it may have been the strong but just shy of next to your skin soft Wool of the Andes, my usual workhorse yarn, but there was always something…missing…for me.  I think this is evidenced by the fact that in the end, despite being around multiple craft and sewing stores, I never got around to buying and sewing in a zipper.  It just wasn't true love like the original sweater.
This time around I did it much better.  Instead of knitting in pieces and seaming, I did this one in the whole body and the sleeves in the round. 
With only the sleeves to seam in and the body done together to the underarm, I felt that this one went much faster and I was on to the sleeves before I knew it. 
Then, 22 days after I originally swatched, I had a sweater.
And its even better than the original!  While the original had ribbing only in the front of the body, this one has it on the sides, which creates waist shaping and hugs curves quite nicely.
The ribbing on the sleeves mean that they hug my arms instead of being loose, something I always disliked about the original.
The original only had contrasting stitching at the inside of the cuffs, collar and hem and this one
has it as the first two rows of the cuff, hem, up the centre where the zipper will go and at the collar
…which also got a makeover:
and was made double thick so that it would block the ever constant wind of Nelson Lagoon and the future cold of Pilot Station, which was -25 yesterday, from seeping down my neck.  Even without the zipper, which will go on March 9th, the day after I arrive in Sitka and buy one, I LOVE this sweater.
The City Tweed HW yarn is so very soft and warm, undoubtedly from the Merino/Alpaca fibre blend, and I dont think that I'll ever wear another sweater as much as I will wear this one and barring any fate of felting, which will never happen because this sweater will ALWAYS be hand washed, I would like to think that this sweater will outlast the original.
PS: The sweater is being held by a shawl pin made by ThatLoganChick who, sadly, doesn't make shawl pins anymore.  She does, however, have some lovely shawl patterns for sale in her Ravelry shop which is linked above.  I had won two of her pins in a contest back in '08 and I've gotten some great use out of both of them for holding various sweaters closed!
PPS: Please ignore the horrific "halo" of hair made much, much worse by the flash used and my placement under the overhead light.  I have lots of new hair growing in for some reason and they all seem to be in the sticky-up stage of growth and no number of clips, headbands or amount of product are able to keep them tamed so I've stopped trying and let them do their own thing for now.  Much less stress but makes for much worse photos.
PPPS:  I had to laugh at myself and realised that I am nothing if not constant.  In the first photo I am wearing jeans, long sleeved t-shirt and The Sweater and have my trusty backpack sitting on the step next to me.  In the last photo I am wearing jeans, long sleeved t-shirt and The Better Sweater and have my very same trusty backpack sitting next to me on the floor…You can see it here, just hiding under the chair. 
See the red?  Yup.  Nothing if not constant.
The stats helper monkeys at WordPress.com mulled over how this blog did in 2010, and here's a high level summary of its overall blog health (My thoughts and comments all look like this 🙂 ) :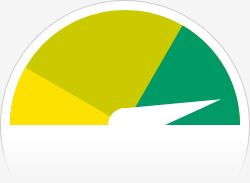 The Blog-Health-o-Meter™ reads Wow. ( I wonder what it would say if I had more posts and more readers?  Amazing?  Very Wow?)
Crunchy numbers
A Boeing 747-400 passenger jet can hold 416 passengers. This blog was viewed about 2,800 times in 2010. That's about 7 full 747s.
In 2010, there were 71 new posts, growing the total archive of this blog to 130 posts. There were 285 pictures uploaded, taking up a total of 581mb. That's about 5 pictures per week. (Roughly 1.37 posts per week…not bad, but I'm going to work harder at hitting my 2/week goal set in my 101/1001…and take more photos.  2011 is the year of Tasha and her camera.)
The busiest day of the year was November 2nd with 45 views. The most popular post that day was About. (Seriously?  Theres next to nothing written there and far, far more interesting posts!)
Where did they come from?
The top referring sites in 2010 were ravelry.com, facebook.com, blogger.com, bloglines.com, and alaskanpurl.com. (Not really surprised that Ravelry and then Facebook came #'s 1 and 2, I do spend most of my online time there.)
Some visitors came searching, mostly for cuius testiculos habes, habeas cardia et cerebellum, sisu tattoo, sisu girl, cuius testiculos habes, and cuius testiculos habes habeas cardia et cerebellum. ( I love that the most searched for words/phrases are A) In Latin and B) About getting a mans attention by grabbing a certain part of his anatomy.)
Attractions in 2010
These are the posts and pages that got the most views in 2010. (I really like that my initial Intentions blog made that list since I plan on doing a lot more of it!  I also think I'll use a bit more Latin since it got peoples attention…though I don't know about their staying power or if they thought for any reason that they would find a Knitting/Spinning/Life in rural AK blog when searching…I'd really like more long-term readers…)
1
About October 2008
5 comments
2
Cuius testiculos habes, habeas cardia et cerebellum April 2010
2 comments
3
And then there was body art August 2009
3 comments
4
Announcing My Intentions August 2010
1 comment
5
30 down, 20 to go April 2010
All in all, a great year and we are off to a grand start with 2 posts in 2 days 🙂  Heres to a wonderful next 363 of knitting, spinning, adventures, blogging and taking photos of it all!!
The Grand Update of my 101 in 1001!
101 in 1001
Grand Aim: To do some amazing things along with the mundane before my 30th Birthday.  To live my life fully and with no gaps between what I want and what I do.
Begun: 1/1/09
Formally Ends: 9/29/11  Goal End Date: 8/29/11 (970 days)
Completed
In the works
(Altered)
Last updated 12/2/09
1.    Go 24 hours w/out TV once a week
2.    Read Narnia Series
3.    Read "Alaska" by Michener
4.    Read Higgins 'Sean Dillon' books
5.    Listen to 1 podcast a day – 335/1001
6.    Move DVD's into 1 case and out of jewel cases
7.    Borrow and read 3 books a month from the Library (I'm calling this one In the Works since I've gotten/am getting books for my Kindle)
8.    Watch 9 movies a month
9.    Return Netflix movies the day after watching them
10.    Read the Bible
11.    Read all of Terry Pratchetts 'Discworld' series
12.    Catch up and continue reading Brian Jacques 'Redwall' series
13.    Read all of Jane Austen's novels
14.    Hike the Superior Trail
15.    Visit Hawaii
16.    Visit all of UK
17.    Visit Marquette 3 times – 1/3
18.    Lose 40 lbs – Lost 60!
19.    Keep it off
20.    Spa day-the works- on 30th Birthday
21.    Manicure or Pedicure every other month (DIY at home so I can use up some Mary Kay handcare)
22.    Shave once a week – 143 Shaving is SO far from important to me
23.    Take a vitamin every day for 3 months – 90/90
24.    Do a cleansing fast. Nope.  Not important and chances are, not healthy either!
25.    Be in bed by 10 pm 6 days a week
26.    Get up at am 5 days a week Jan-May 09
27.    Walk Sisu 2 laps – 5 days a week Jan-May 09
28.    Walk Sisu 2 mi/day May -?
29.    Drink only 1 cup of coffee per day
30.    Workout 1 hr, 5 days a week @ PF Jan-May 09
31.    Workout 'Biggest Winner' 4 days a week May -? I just went to walking Sisu and running and it was perfectly me 🙂
32.    Complete couch to 5k program using Podrunner Intervals
33.    Try 10 Pilates workouts – 5/10
34.    Run 2 – 5k's
35.    Eat Vegetarian 1week/month 6 times – 6
36.    Eat beans not meat 1 meal/week for 6 months – 20/24
37.    Have friends over for dinner 1/month (Trying but fallen way short)
38.    No processed foods 2 days/week for 12 months – 24
39.    Buy and enjoy 2 bottles of wine/month – 64
40.    Save 75% of income Jan-May 09 Save 50% of income Jan-May
41.    Review and plan savings when I get a new job
42.    Detail and monitor $300/month budget Jan-May 09
43.    Review, detail and monitor new budget May 09
44.    Use cash or check for all minor purchases.
45.    Pay off all credit cards by May 09
46.    Pay off student loan by Jan,'10
47.    Get a CHA/P position
48.    Move
49.    Put laundry away immediately after folding
50.    Vacuum once a week
51.    Organize and de-clutter once a month
52.    Put all important documents into a binder
53.    Create workout binder
54.    Write letters to family members 1/month – 32
55.    Email Mum once/week – 143
56.    Keep in touch with Jessica Campbell
57.    Blog 2 times/week
58.    Update 101 list once/week
59.    Pare down possessions to 4 totes, 2 suitcases, wheel and dog food J
60.    Catalog entire yarn stash
61.    Catalog entire fiber stash
62.    Keep both #60 and #61 up to date bi-monthly
63.    Spin thru entire fiber stash as of 1/1/09
64.    Knit 12 sweaters for myself (3/12)
65.    Buy no more sock yarn until all existing stash has been used 2/24
66.    Knit hats from remaining Noro 0/6
67.    Spin 30 mins/day
68.    Knit 2 hours every other day
69.    Knit Christmas ornaments 1/month – 3/32 (gave 2 away!)
70.    Put all patterns into pockets and into a binder
71.    Organise patterns
72.    Photograph all WIP's every other week
73.    Update Ravelry every other week
74.    Knit 3 baby sweaters for Bolliger baby 2/3
75.    Buy only Etsy handpainted fiber after all stash has been used
76.    Knit a Christmas Stocking for myself
77.    Knit thru 'The Great American Afghan'
78.    Go to OR fiber festival
79.    Go to MI fiber festival
80.    Go to sock summit, Portland, OR 8/09
81.    Only buy yarn for a specific project.
82.    Work towards becoming self-sufficient
83.    Research raising ducks
84.    Research raising rabbits
85.    Research raising bees
86.    Write a business plan for dyeing yarn and fiber
87.    Research land availability
88.    Save towards buying house and/or land
89.    Plant herb garden/pots
90.    Plant vegetable garden
91.    Be open to dating after May '09
92.    Pray Daily
93.    Get my dresser from Mum I've got to first find a longer term housing arrangement first, then I can get my furniture!
94.    Knit 3 vests of different styles with at least 1 being of my own design
95.    Design and knit one pair of mittens.
96.    Knit 2 things using patterns from 365 Knitting Sitches a Year
97.   "Bite it, Write it and Move on" for 3 months
98.    For 2011
99.    For 2011
100.    For 2011
101.    Make a new list
I love reading thru this list nearly as much as it formatting between Word for Mac and WordPress annoys me…some things I just can seem to be able to alter.  On the other hand, there are some things that I can do something about and its those that look like they are going to be the most interesting.  I have to laugh at myself when I read some of my goals…12 sweaters?  What was I on when I thought that THAT would happen?  Using up ALL my sock yarn before buying more?  Um, No.  I failed at that one early on.  My list was written when I was in a very different place…physically and mentally, A year ago I was in a different, different place and today I am looking forward to a whole NEW different place within the time of the list expiring…a new place that can change a lot of these plans and ideas into real things.  Growing green things is hard when you dont have any dirt in your region…but after re-doing #47 and #48, there will be plenty of dirt, a chance to become more self-sufficient, raise ducks/chickens and plan on what I am going to with the last two "For 2011" challenges.
For the record:  #98 is Spin my Intentions Rovings.  I really, really like what I have come up with so far with this project and I can't wait to see what the next 12 rovings bring me.
Happy Old Years Night!  Stay Tuned tomorrow of my Knitting/Spinning recap of 2010 and some photos of recent adventures.